The past couple years have brought many changes to the farm and our family. As kids grew older and we transitioned to fewer and younger farmers, we scaled down the farm in production and acreage. Fall of 2016, the three youngest began attending public school for their first time ever. It was an adjustment for sure, but as with any new challenge, they all quickly adapted. With the now kids in school, Leslie was finally able to "get a real job" and have more time away from the farm.
New Year's Day 2017 brought major changes:
This Jan 1st, the farm lost one of its most precious treasures — the creator of this website, founder of this blog, and my constant companion for the past two decades. Life on the farm had lost its appeal. Our family is now divided between two separate locations. The youngest three kids now get to experience farm life and town living, as they float between the two houses.
March 2017 marked the 21st and final year of the union that became this family. Unlike the past, this year's event came and went without any cards or gifts or trips or texts or fanfare of any kind.
A quote from a book I'm reading, "It's not what happens to us, but our response to what happens to us that builds our character". Although at times I find it difficult to respond to this season with character building in mind, I trust God will somehow use it for good.
Romans 8:28: "And we know that all things work together for good to them that love God, to them who are the called according to his purpose".    —This is a promise of provision, not prevention –God will work in those all things, not prevent all things from happening. We often don't get to choose our circumstances, but we ALWAYS get to choose our response.
I am forever grateful for the 21 years of effort and work that was poured into this family and the farm. Every member is who we are today, because she helped teach, train, and shape us. (and feed and care and most everything else!). She will be dearly missed.
As Les pursues her own dreams and builds a new life, she's committed to being the amazing mom she has always been. Our kids are blessed because of who she was and is. If you're in town and bump into her, give her a hug – I'm confident you will be encouraged just by spending some time in her presence.
As for me, I am living my often quoted mantra, "ya don't grow when things are easy"….. Our family has so many things to be thankful for. We don't have to look very far to see all the ways we have been blessed.
Please pray for us all as we  navigate this transition —
On the farm, Tucker answers most phone calls and organizes hay sales. Walker, Laramie and I help wherever we can. You will meet some extra helpers this year as we include many of the boys' friends in the work.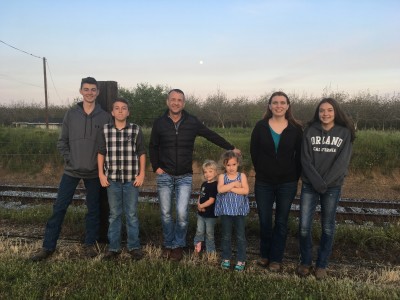 Remaining crew on the farm
The entire BurksBarn crew sure appreciates the years of support from all our customers, family and friends!!
See you at the barn — God Bless
Darin